Barn Door Hardware - LF Sales Page
Premium Barn Door Hardware. Free Shipping. Under $100.

"I was surprised at how quick I was able to hang a door...
The hardware is super quiet and super sturdy." - Mike Montgomery
See our hardware in action with this DIY barn door project from Mike at Modern Builds.
Modern Builds has built a following of over 275,000 subscribers on YouTube,
with projects featured by names like Popular Mechanics.
The Ultimate Confidence Booster
You can hang a door in just one hour. Don't mess with the written instructions -
our step-by-step tutorial video breaks down the installation one step at a time and
provides all the information you need. Approach your project with confidence.
See what customers are saying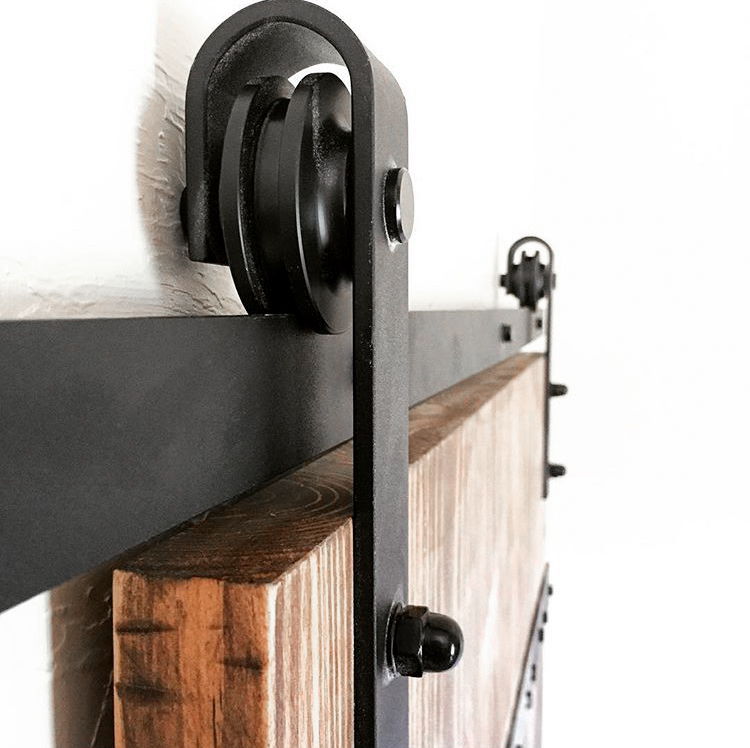 "This hardware was exactly what we were looking for. It not only looks great aesthetically but was easy and quick to install. I was nervous that the weight of the door we chose would be too much for the hardware to support but it carries the weight perfectly and glides smoothly. We have had it installed for a few weeks now and are extremely happy with it!" - Anonymous Customer
"Very well made kit with heavy duty hardware. The instructions are all visual and a lttle small in print to be clear but you can use them. They have an instructional video on YT that clarifies a lot and is better than the printed instructions. A big plus is the one piece bar that the wheels ride on. It is heavy duty and would be more than adequate for this use. One piece construction provides a lot of strength." - Jeff
"Was not sure how this was going look or install. It had a few good reviews that convinced me. Easy installation, they send you easy instructions and email you link to install video. I used a header plate due to my door being 2" thick then bought longer hanger bolts. This is my first attempt at a barn door. Wife is very happy. Highly recommen this kit. Very smooth and made of high quality. The look is perfect. Don't waste money on more expensive one's. Good luck and thank you industrial by design!"  - Anonymous Customer
"I made my sliding barn door for a small kitchen area coming in from our pool area. I looked on the web for the sliding kit to hang the door and most of them were outrageously priced because I had a small clearance of 6" above the door to the ceiling. Most of the sites I saw that had a kit that would fit in this space were $500 or more each. I asked a question of the supplier if this unit would fit my opening and he said it would. I am thankful to say that it fit and it looks great. The installation was fairly easy. I am glad there was a video to watch on You tube, explaining how to install the unit because the printed instructions were basic and not great. The door slides easily and looks great. The only thing I was not crazy about is the floor guide. Otherwise, it is a fine door hanger." - Robert
"Well made hardware and easy unstallation process. Written and website directions pretty good; leaves out a few things that you must figure out on your own (eg, depth and width of notch on door bottom). Really fair price for the kit; so many other kit prices are ridiculously high. Since my house had metal studs in a few places, I used 1/4 in. toggle bolts instead of supplied screws to hold rail and it worked fine. If I need another, I would buy this kit again." - S. Clark
"The hardware is very nice and heavy-duty. It looks just like what is pictured and is easy to install with the directions and video link they send. My door is over 100lbs and it holds it no problem. My studs weren't standard distance apart so I just used a header board and it worked great. I would definitely recommend" - Tate
"This product arrived on time, in perfect condition, with great instructions (both written and video). Couldn't be happier with the product or the end result. HIGHLY recommend this product - it works smoothly and is exactly what we needed for our 4' wide x 8' tall door to function safely." - Anonymous Customer
"Definitely a 5 star product at the right price, love that the bar is a solid 8' piece of steel. Similar products at the box stores were almost twice the cost and would not have worked as good. Looks great as a bedroom door in my barn house project! The manufacturer install video was actually helpful as well." - Jamien
"Great product! Every piece is solid and well-made. The one-piece 8-foot track and nylon wheels ensure that it rolls very quietly. Installation was easy (I am an experienced carpenter) and it looks great. I was missing one piece of hardware in the packaging but I contacted the seller - he emailed me about a week after I received the product to ask what I thought of the product, so I replied that a piece was missing. A few days later, I had the missing piece in hand. Great customer service!" - Abby
Answers to your questions
Ready to get your project started?
Free shipping + lifetime warranty = risk-free
Sliding barn door hardware is both industrial at its core and efficient in its use of space. A single 96" pre-drilled rail is included as it makes for a sturdier finished product and is easier to install than two separate 48" rails with a connector piece - an inferior product offered by some brands. The nylon wheels are ultra quiet and proven to last as they have been successfully tested beyond 100,000 rolls. To finish each hardware set, a satin black finish is baked on through the powder coatsing process. Order risk free with our 100% lifetime money back guarantee.
Questions about our product?
Industrial By Design has been featured in: